This Sunday, artist David Huffman will be stamping SFAC Passports at Double Punch from 12 to 4pm. More details below!
Date and Time: Sunday, October 14, noon – 4pm
Location: North Beach (Passport Home Base at Washington Square Park)
Purchase Tickets: Buy your passport for $25 here! Or you can come to the SFAC Main Gallery at 401 Van Ness (@ McAllister) and buy one in person.
After Party: 4 – 7pm at 15 Romolo

Passport 2012 Participating Artists
Michael Bartalos, Bert Bergen, Lauren DiCioccio, Jeremy Fish, David Huffman, Walter Logue, Stephanie Syjuco, Kelly Tunstall, Jenifer Wofford, Chelsea Wong and featuring a stamp created by Lawrence Ferlinghetti.
What is Passport?
Passport is an annual DIY art collecting event benefiting the San Francisco Arts Commission Galleries. Since 2009, Passport, has been bringing together a new lineup of celebrated Bay Area artists each year and inviting the public to create a limited-edition artist's book by collecting original, artist-designed stamps in a custom edition Moleskine "passport" notebook. This year, from noon to 4 pm, join hundreds of do-it-yourself art collectors and take to the streets of North Beach, following a designated route, to collect stamps from the artists themselves. While discovering some of the brightest spots in North Beach you can enjoy the people and small businesses that define the neighborhood's unique cultural character.
I want to Participate!
Step 1: Purchase your passport for $25 here. Or avoid the lines at will call and pick one up at the SFAC Main Gallery at 401 Van Ness (@ McAllister), Wed – Sat, noon – 5pm.
Step 2: Pick up your passport and event map at will call at Home Base in Washington Square Park between 11:30 a.m. and 2 p.m on Sunday, October 14 come rain or shine.
Step 3: Follow the Passport map to eleven amazing local business where artists will be waiting to stamp your passport with an original artwork. (Note: Lawrence Ferlinghetti's stamp will be administered by volunteers.)
Step 4: Allow 2 – 3 hours to complete the route. Bring sunscreen and buy snacks from local vendors.
Step 5: Come to the After Party at 15 Romolo from 4 – 7pm. Share stories, meet the artists, buy raffle tickets, have a drink and congratulate yourself on producing a limited edition art book! (Note: Passport is a family friendly event, but the after-party is 21+)
Now check out our stamping locations!!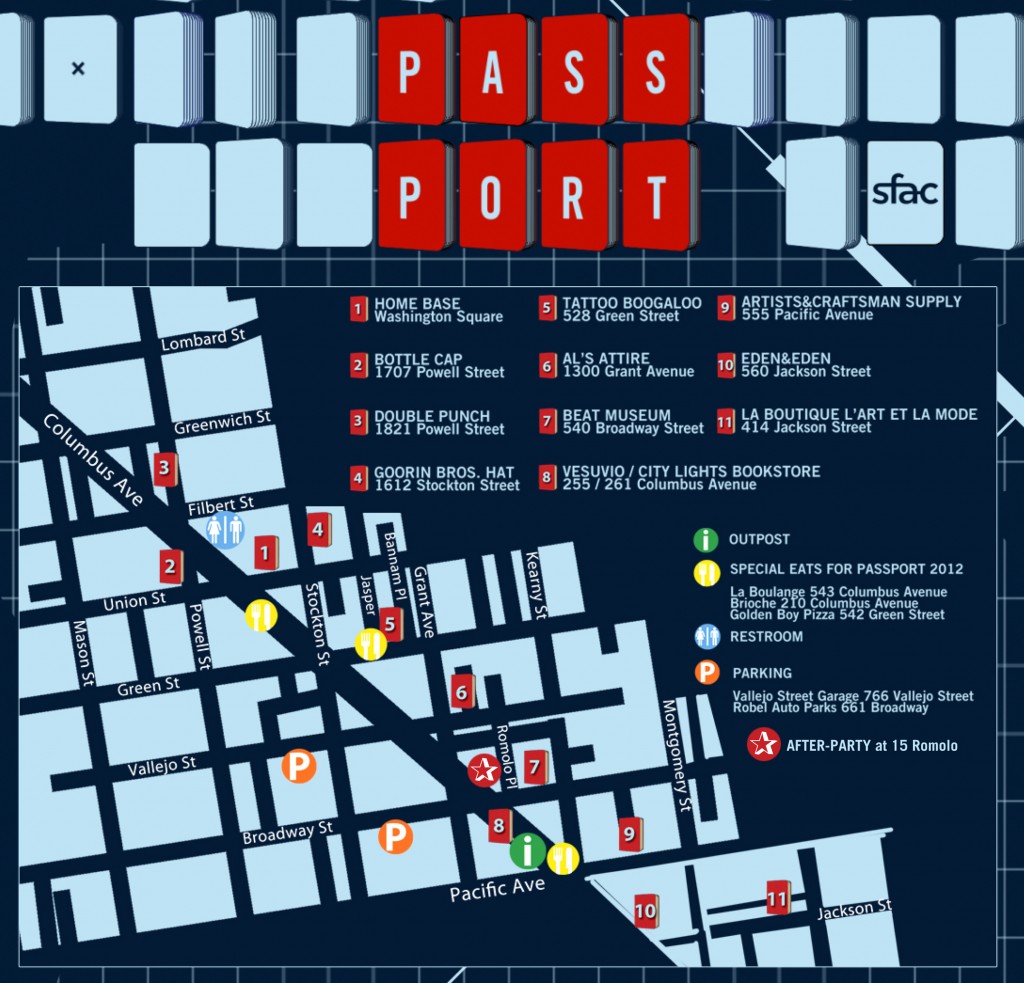 Vesuvio, City Lights Booksellers & Publishers, Al's Attire, Eden and Eden, Artist and Craftsman, Goorin Brothers Hat Shop,
The Beat Museum, Bottlecap, Tattoo Boogaloo, La Boutique, Double Punch
What if I want a passport but can't be there? What's a Concierge passport?
If you can't make the walk this year, please purchase a Concierge passport for $125.00 here. We'll stamp it and send it to you for your passport collection.
Can I get more than one passport stamped?
The artists will only stamp two passports at a time for each patron. Anyone carrying multiple passports will be asked to get back in line after the artist stamps two passports. Our suggestion is to bring friends and each carry no more than two passports.
How do I get there?
We suggest taking public transportation to North Beach. Please go to 511.org to find out which buses run from your location to Washington Square Park. If you are driving, you can park at Vallejo Street Garage – on Vallejo between Stockton and Powell (pay by the hour). There is also a parking lot at 721 Filbert, near Washington Square Park.
WE HEARD YOU! In response to last year's Passport holders:
The lines were pretty long at some stops. This year we will expedite lines by only allowing artists to stamp 2 passports per patron. If the patron has more they must get back in line. (We will be stamping all of our archive passports in advance of the event!) The artists are working to get their stamping process down to a maximum of 15 seconds! Finally, we're working with hosting venues to entice them into providing entertainment while you're waiting.
We want to know more about the artists. After the event you'll be able to download a key with a thumbnail of each stamp with the artist's names and their web site information.
There was no place to go to the bathroom. There are public restrooms at Home Base in Washington Square Park! Yeah!!
We wanted to grab a sandwich to go along the route but didn't know where to go. This year we'll out spots on the route map where you can grab a sandwich to go.
Passport 2012 will be an exciting way to celebrate and re-discover the artistic and historically rich neighborhood of NORTH BEACH !
Passport 2012 is organized by the San Francisco Arts Commission Galleries. Proceeds from the event go toward the SFAC Galleries' Programming Fund, which supports artist honoraria and exhibition costs. Passport 2012 is presented in partnership with  Moleskine®.
Media sponsorship for Passport 2012 is generously provided by 7X7.