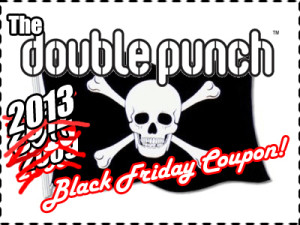 The Darkness returns this Friday! Yes, it's time for our annual Brutal Black Friday sale! We'll be playing metal all day and night to bring you those sweet Black Friday savings. How do you get these great savings? Easy as printing out a coupon.
Print out or present the coupon with your smart phone at double punch for great savings! This coupon is only good for three days! This coupon won't work online, just our retail shop in North Beach – San Francisco. So if you print it out and rub the paper on your monitor displaying ningyoushi.com, nothing will happen. So let's recap…
This Friday, November 29th, 2013 from 3pm to close, you will receive 25% off your entire purchase. WOW! You MUST print or present the coupon and present it to the cashier to get the savings. If you don't own a printer, you can show this blog post on your phone. We've entered the era where people own more smart phones than have printers at home.
After Friday it will be a 15% off coupon and valid for 3 days (November 29th – December 1st). One coupon per person please. Sorry, coupons cannot be combined. You cannot bring a bunch of them in, tape them together and form some kind of Voltron of savings.